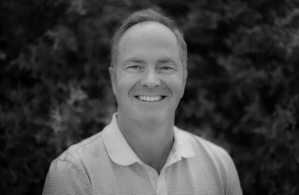 Dr. Jared T. French grew up in Idaho and attended Brigham Young University on a four-year trustee's scholarship, studying zoology and Japanese. After his undergrad, he moved to Oregon and received the dean's scholarship as a first-year dental student at Oregon Health Sciences University, where he graduated in 1998.
During his time in Oregon, he met his wonderful wife, Lara. Together they have four beautiful children: Aspen, who recently graduated with a degree in international relations, Alder, who is currently pursuing a degree in computer science at the University of Oregon, Aiden, who is training to become a helicopter pilot, and Ansen, who is studying film production at the University of New Mexico.
Outside the office, Dr. French and his wife enjoy hiking, biking, kayaking, skiing, visiting the hot springs, traveling and reading — pretty much anything outdoors. They love exploring the fascinating art, culture, history and food that Santa Fe has to offer.
When he is the office, Dr. French loves using his expertise and experience to help people obtain and maintain healthy, beautiful smiles.